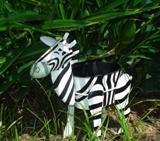 5 Smiling Safari Theme
Stress Less! Bring the cake, the gifts, and the guests... let us do the rest!
Party Package includes one Deluxe Guest of Honor place setting and favor pack, matching place settings for an additional 9 guests, one thematic candle and the appropriate number of straight candles, table coverings, free use of our thematic decor, advance set-up and no stress clean-up.
Want all of your guests to go wild for your favors? Outfit each guest with their own matching party favor packs (as already includedfor the guest of honor). Pre-order for the maximum expected - pay for only the ones you use!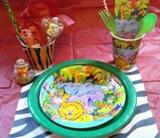 Deluxe Birthday Child Pack
Includes 1 cup, 1 straw, utensils,
1 dinner plate, 1 dessert plate,
2 napkins, 1 safari tin, 1 safari bubbles,
1 safari pencil, 1 safari
rubber duck, 1 safari sucker and
one Color-Me Jubilee T-shirt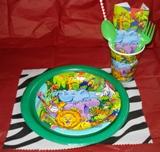 Guest Place Setting
Includes 1 cup, utensils,
1 dinner and dessert plate,
1 straw, and 2 napkins